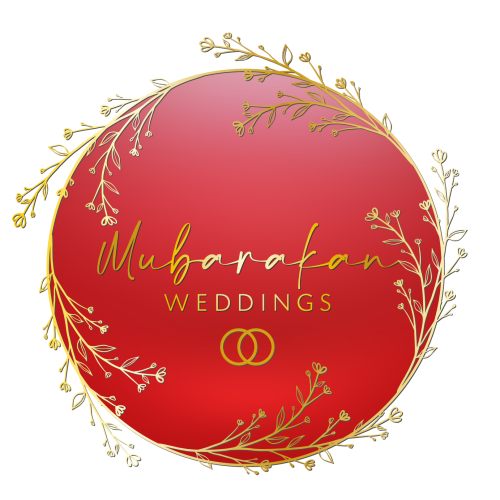 UK's Premier Indian Groom and Bride Accessories Store
Find The Perfect Indian Wedding Accessories At Mubarakan Collection
Mubarakan Weddings is the one-stop destination for all Indian wedding accessories as well as Pakistani wedding accessories. The items on display range from contemporary bridal jewellery from famous designers over the world. We also have anklets, maiyan sets of various colours, and photo booths that you can hire. You can also take your pick from our wide selection of beautiful flower walls and backdrops. We make sure that your big day is one to remember.
Not only that, but you will also find wedding umbrellas, wedding shoes, clutch bangles, pearl embossed bangles, and potli bags. These potli bags are available in various sizes and are just as colourful as the other items named previously. You can rest assured that we have everything you need to make the wedding memorable.
Our website also has a guide to the different wedding ceremonies such as the Ghanna ceremony, Rangoli ceremony, and others.
Our Wedding Accessories Designed For
Our desi wedding accessories are designed for both Indian and Pakistani events. You will find everything you are looking for here, and we will deliver them to you without delay. We maintain transparency with our message system so that you can communicate your needs and make suggestions. You can get items ranging from bangles, anklets, and colourful umbrellas for the different pre-wedding ceremonies and of course, the wedding. There are also Maiyan sets that are very much part of the Maiyan event before the wedding.
To make your big day bash a memorable one, look no further than Mubarakan Weddings. We go the extra mile to make your big day even bigger with the help of the 360 photo booth. You will get the best Indian wedding accessories such as pearl embossed bangles, jewel-studded wedding shoes, and umbrellas tailor-made for weddings, you name it. We are indeed the one-stop destination for a dream Indian wedding. In case of dissatisfaction, you can write to us and initiate returns as well. We also have a sound shipping policy in place.
Weddings are without a day one of the most important days in a person's life and, normally, they would take every step to make sure that nothing goes wrong on a day of such magnitude. Get the best Asian wedding accessories with us at Mubarakan Weddings such as specially decorated umbrellas, and items for events that take place before and after the wedding such as Sangeet, Choora, and others. There are also Polti bags of various capacities. There is also a guide to the Maiyan ceremony which is one of the signature events of a wedding.
Since we cater to Asian weddings, it is only natural that we cater to Pakistani buyers as well. Pakistani wedding accessories are also in our vast repertoire. The items include beautifully decorated gift wraps, 360 photo booth hire, anklets, jewellery, and others. There is also a gallery for these items where you can see for yourself the various items we have in store. Make the most of the anklets to turn heads at the wedding.
We have a great collection of Desi wedding accessories like jewellery studded with pearls and gemstones. Make the most of the feedback section on the website that you can use for voicing your opinions on our products and services. We also offer Maiyan sets for the pre-wedding ceremonies such as Sangeet and Rangoli.
So what are you waiting for? Have a wedding bash like no other with the help of Mubarakan Weddings.
Grab the Latest Groom Accessories For Your Wedding Attire
Get the best Desi wedding accessories from us at Mubarakan Weddings such as gemstone studded shoes and others. One of the many things that feature in our extensive collection is Indian groom and bride accessories. There are polki sets embossed with precious stones and bangles. And we have recently introduced beautiful Shagun and Choora trays. Check out the wide selection of glamorous designs that will jazz up any wedding! The items up for sale can be browsed with the help of the categories. You can send us a message through our website with your wedding enquiries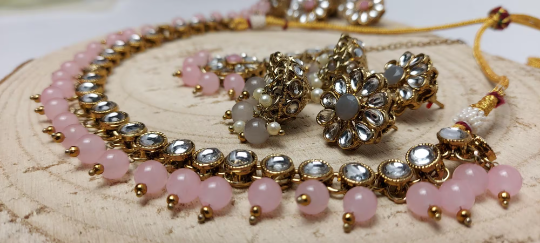 1. What Makes The Mubarakan Wedding Bridal Accessories Unique?
We have an enviable collection of desi wedding accessories that can add life to the wedding. These items range from shoes, and colourful umbrellas, to pearl-embossed bangles, you name it. There are also gift wraps available in our online store. There is also a 360 photobooth. Our specialities are eye-catching Maiyan and Jagoo sets. Our designs are a mix of traditional and trendy, and we are sure you will find what you are looking for.
2. When To Buy Wedding Accessories?
Plans to buy Indian groom and bride accessories should be made as soon as the date for the auspicious day has been announced. Before you proceed to buy the things, make sure you have chalked out the ceremonies that will be held before and after the wedding. There are ceremonies such as Haldi and Choora that need their own sets of items.
3. What Is Your Estimated Delivery Period?
We will try to deliver your Indian weddings accessories in the shortest time possible so that the wedding preparations can start in no time. The website assures you that it will deliver your orders in no time and there is also a post-delivery service. Our customer service is prompt; we try to cater to all your requirements and answer all your queries. 
4. Do You Offer Any Refund And Exchange Policy?
Currently, we do not offer any refunds and returns policy. Since the items are delicate, we cannot offer any returns on them at the moment.
Privacy Policy
Terms & Conditions
Shipping & Returns